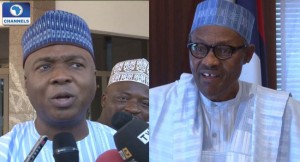 President Muhammadu Buhari and the Senate President, Dr. Bukola Saraki, on Wednesday met behind closed-door to discuss national issues.
After the meeting, Dr. Saraki told reporters that there was no crisis in the Senate over the removal of Senator Ali Ndume as Leader of the upper chamber.
The All Progressives Congress (APC) caucus in the Senate in a letter to the Senate President on Tuesday announced the replacement of Senator Ndume with Senator Ahmed Lawan.
He said the institution was bigger than every Senator.
"There is no crisis in the National Assembly. Things like this aways happen. Everything is calm and fine," he said.
Asked to react to comments in some quarters that Senator Ndume was sacrificed, he laughed and said: "do I look like someone that does things like that?"
On the purpose of his visit to the villa, Dr. Saraki said he held talks with the president to get the government going especially on the issues of budget.
"It is okay to always consult on national issues about getting the government going and the National Assembly moving.
"As you know, there is nothing as important for us now than the budget process and work we need to do on those areas," the head of the National Assembly told reporters.
The meeting is coming a day after the National Assembly resumed plenary afer the yuletide break.
In the House of Representatives on Tuesday, the Speaker, Honourable Yakubu Dogara, told the lawmakers that a critical area to focus on in 2017 was the nation's economy which is in recession.
The lawmaker said: "as 2017 rolls by, we should expect great challenges once again but with renewed determination and faith that things shall surely get better with God on our side".
He called the attention of the House to what he called the most critical and urgent task before them, saying "it is the pending 2017 Appropriation Bill".