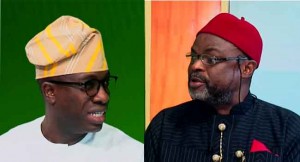 As Nigeria marks Democracy Day on Sunday, May 29, mixed reactions have been trailing questions about the performance of the President over the last one year.
Speaking on a special coverage of 365 days of Buhari on Channels Television, former Director, Planning and Research for the All Progressives Congress (APC) campaign organization, Dr. Toe Ekechi, described efforts being made by the President to save the nation from further plunging into socio-
economic problems as commendable.
He argued that rather than focus on the current challenges of hike in fuel price, naira depreciating and higher cost of living, Nigerians should consider the factors that brought the country to its current state.
"My opinion is that we were heading for a ship wreck – a colossal disaster but God in his infinite mercy, who never wanted Nigeria to be destroyed provided at the right time a captain that has managed to steer the ship off the course of a ship wreck trying to stabilise it.
"It is not very well fully stabilised, that is where we are now. So I will like to say, it could have been worse if we did not have Buhari."
Meanwhile, former director of the Jonathan-Sambo Campaign Organization, Mr Segun Sowunmi, accused the APC-led federal government of making excuses and blaming past administrations for the challenges facing the nation.
"If they had not come to Nigerians with a huge promise that a whole lot of our people believed, all of these 'it could have been ship wreck' could have been tolerated.
"From the minute this government got in charge, they have only given us excuses," Sowunmi said.
He recalled that when the PDP took over from the military in 1999, ex-president, Olusegun Obasanjo did not give excuses about past military regimes but rather worked hard to revive the economy.
"What has happened in the last one year is that everything has gone bad," he maintained.