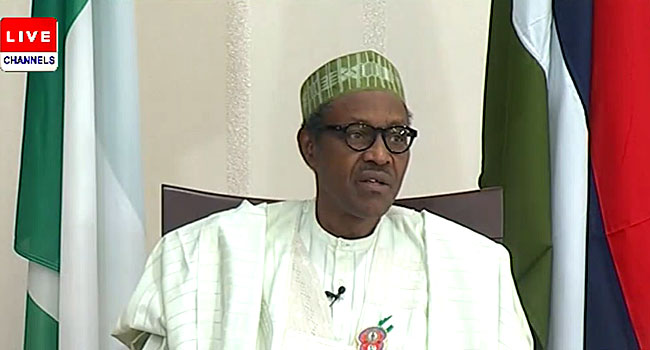 President Muhammadu Buhari says the priority of his administration is to ensure food security in Nigeria before export of food products.
The President made the statement on Saturday while contributing to a Presidential Panel Roundtable on Investment and Growth Opportunities at the opening session of the 'Africa 2016: Business for Africa, Egypt and the World' at Sharm El-Sheikh, Egypt.
With Nigeria being a mono-economy, dependent on oil, and with a teeming unemployed youth population, he stressed that the way out of the current slump in the global oil market was for the administration to focus on agriculture and solid minerals development.
"The land is there and we need machinery inputs, fertilizer and insecticides," he said.
Productive and Self-sufficient
On his opposition to the devaluation of the Naira, President Buhari noted that Nigeria could not compete with developed countries which produce to compete among themselves and could afford to devalue their local currencies.
"Developed countries are competing among themselves and when they devalue, they compete better and manufacture and export more.
"But we are not competing and exporting, but importing everything including toothpicks. So, why should we devalue our currency?" the President asked.
According to him, "we want to be more productive and self-sufficient in food and other basic things such as clothing. For our government, we like to encourage local production and efficiency".
The President stated that those who had developed taste for foreign luxury goods should continue to pay for them rather than pressuring government to devalue the Naira.
He expressed optimism that Nigeria would get out of its current economic downturn, pointing out that another major problem militating against economic revival was the huge resources deployed towards tackling insurgency and international terrorism.
President Buhari commended the support being received from the international community in his administration's fight against terror, as well as cooperation in tracing looted funds stashed away in foreign countries.
Responding to a question on his performance since he assumed office, he said that his administration had been quite focused on three fundamental issues of securing the country, reviving the economy and stamping out corruption.
"The message on corruption has been driven home vividly and Nigerians are very acceptable to the message," he said.
President Buhari added that those accused of stealing public funds were cooperating by voluntarily providing useful information while investigations and prosecutions were going on.
In his address, the Egyptian President, Abdel-Fattah El-Sisi, said that Africa needed to concentrate on transforming into knowledge societies using innovation and research.
The Presidents of Gabon, Equatorial Guinea, Sudan and the Prime Minister of Ethiopia also participated at the Roundtable.
In his message, the President of the African Development Bank, Dr. Akinwumi Adesina, stressed that "Africa must think big, act big and develop big."
Before departing Egypt, President Buhari and his Egyptian host, had a bilateral discussion on security, military cooperation, agriculture and solid minerals development.