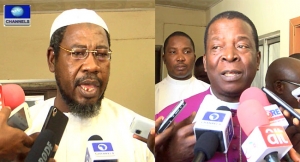 Religious leaders in Nigeria have suggested ways to end the Boko Haram insurgency in the country, cautioning that the military does not need a deadline to fight insurgency.
At a meeting attended by the Minister of Information, Islamic Cleric, Sheikh Muhammad Nuru Khalid, said that deadlines are not helpful anywhere in the world to fight insurgency.
With less than three weeks to the expiry date given by the Presidency to end Boko Haram insurgency, the cleric said that there was need for a review of approaches as it appeared the end is not in sight.
The Anglican Primate of the Church of Nigeria, Archbishop Nicholas Okoh, also noted that the message of peace should transcend mere talk to the people in the troubled north.
Although the cleric encouraged a regulation of preaching, especially in the troubled north, Archbishop Okoh said that the idea of developing a code of conduct for religious leaders should be treated with caution.
Nevertheless, the Minister of Information, Lai Mohammed, urged the clerics to use their position and influence to drum up support in the war against insurgency.
It was unanimously agreed that taking the message of peace to the grassroots might bring the nation's worst nightmare to an end.