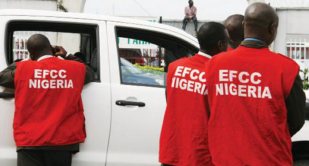 The Economic and Financial Crimes Commission (EFCC) has filed a three-count charge of conspiracy and corruption against two multinational oil firms, Shell and Eni, for their roles in the alleged Malabu $1.1 billion scandal.
Nine others were also charged along with the two multinational companies before an FCT High Court in Abuja on Thursday.
Those charged alongside Shell and Eni are a former Minister of Justice and Attorney General of the Federation, Mohammed Adoke, and a former Minister of Petroleum, Dan Etete, as well as a businessman Aliyu Abubakar.
In the first count of the charge, Shell Nigeria, Nigeria AGIP Exploration Ltd., Eni S.p.A, a former Director of SNEPCO, Ralph Wetzels, two Italians who are former directors in AGIP, Casula Roberto and Burrafato Sebastiano, Douzia Louya Etete popularly known as Dan Etete, Mohammed Adoke, Aliyu Abubakar and Malabu Oil & Gas Ltd. allegedly conspired sometime in 2011 to commit an offence of official corruption.
In the charge sheet signed by Jonson Ojogbane for the EFCC, the offence was said to be contrary to Section 26 of the Corrupt Practices and Other Related Offences Act of 2000 and punishable under Section 12 of the same act.
In the second charge, Dan Etete, Mohammed Adoke, Aliyu Abubakar and Malabu Oil & Gas were alleged to have corruptly received the sum of eight hundred and one (801) million dollars in respect of OPL 245 from Shell Nigeria, Nigeria Agip Exploration Ltd. and Eni S.p.A.
The new charges were said to be part of an international collaboration to ensure that all those who partook in the alleged $1.1 billion OPL 245 scandal were brought to justice.
The OPL 245 oil block is currently owned by the Nigerian Government after a temporary court order granted on the basis of an EFCC application.
Shell and Eni have since appealed the order asking that the block be returned to them.