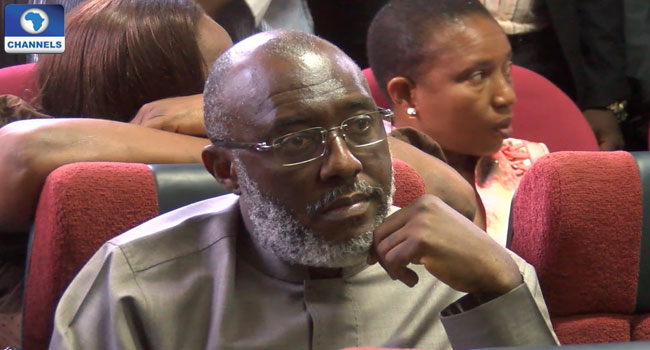 A Federal High Court sitting in Abuja has dismissed an application filed by Mr Olisa Metuh seeking an end to the hearing of a suit against him in the court.          
Mr Metuh, who is the National Publicity Secretary of the Peoples Democratic Party (PDP), had asked the court to disqualify itself from hearing a matter against him on grounds of bias by the presiding judge.
Abuse Of Court Process
He had alleged in his application that the presiding judge was a classmate of his, stressing that he knew him well and was therefore, ill-disposed to deliver justice on the matter.
In an earlier response to the allegation, Justice Okon Abang said that he did not know Mr Metuh and had not met him before now, a position that prompted the court to dismiss his application as an abuse of court process.
Giving his ruling on the application on Friday, Justice Abang held that there were no substantial facts or evidence given by the PDP spokesman in support of the allegation upon which the court would disqualify itself.
The court heard another application by Mr Metuh and the second defendant in the matter, Dastra Investment Limited, to suspend proceedings at the Federal High Court, pending the decision of a similar case at the Court of Appeal.
It also considered an application asking the court to return the file of the case to the chief judge for re-assignment, and an application that the matter be adjourned to enable the second defendant change the counsel representing them.
This followed a disassociation from the previous counsel, who is currently representing the first defendant, Olisah Metuh.
The EFCC had earlier filed a seven-count charge of criminal breach of trust, corruption and money laundering against the PDP National Publicity Secretary, but he was granted bail by a Federal High Court.
Sequel to his release, the anti-graft agency arraigned Mr Metuh on a two-count charge for criminal destruction of evidence and property of the Economic and Financial Crimes Commission (EFCC), but was granted bail by Justice Okon Abang who signed his release warrant.