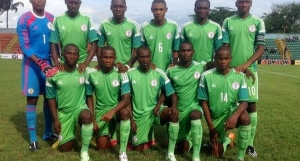 Nigeria's U-17 team, the Golden Eaglets, have beaten the Junior Selecao of Brazil 2-1 at the on-going Suwon Continental Cup international youth football tournament in Korea.
Kingsley Michael and Chukwudi Agor scored two first half goals, while David Enogela conceded a second half own goal.
The Brazilians swooped on the Eaglets in the second half and Evander saw his shot ricocheted off the bar in the 54th minute, as goalkeeper Udoh Akpan was at his best to punch away Vitinho's volley in the 60th minute.
With the victory, the Eaglets shot their way to the top of the 4-nation tournament with four points, following their 1-1 draw on Wednesday against South Korea.