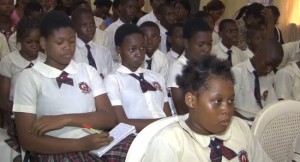 The United Nations Information Centres (UNIC) has asked Nigerian children to say no to all forms of slavery.
The UNIC took the campaign to the Southfield Academy in Lagos on Thursday, to mark the Remembrance Day of the Victims of Slavery.
A member of the group tasked the pupils of the school, as well as youngsters in the country live up to any challenge they might come across.
"Those slaves taken from East Africa and transported to India by the colonial masters at that time did not resign to fate. We are saying that even those Africans that were transported to other parts of the world still found a way of making their marks in the lands they were transported to," he said.
The Executive Director of Africa Anti-Slavery Coalition, Femi Phillips, also highlighted corruption and bad governance as the forms of modern slavery that should be resisted by the populace.
"In this our present generation, we have rulers who do not fear God. That is why we are having these problems of bad governance in Nigeria," he said.
This year's remembrance of the slave victims is focused on 'African Slaves Taken to India' with the aim of imbibing into the young ones, the resilience and resourcefulness of African slaves.