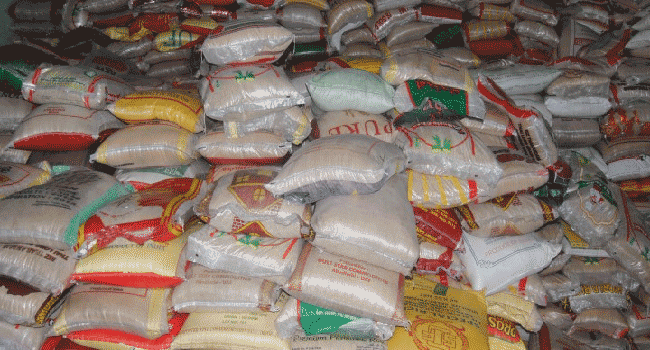 At least 1,000 underweighted bags of rice have been confiscated in Osogbo the capital of Osun State by Standards Organisation of Nigeria (SON).
The organisation said the seizure of the bags of rice at different markets in Osogbo was part of control measures mechanisms.
The State Coordinator of SON, Mr Sunday Badewole, gave the figure while addressing reporters in Osogbo on Tuesday.
Mr Badewole said the agency made the confiscation during the enforcement operation where more than 1,000 bags of five kilogramme, 10kg and 25kg were confiscated.
He said many of the rice sellers had reduced the quantity of rice from the kilogrammes that were indicated on the bags, to make more money.
Stolen Quantity Repackaged
Badewole said the observation carried out by the enforcement team of the agency in the markets during the raid revealed that rice sellers would remove some measures from the bags of rice and seal it back for sale.
He said the quantities removed would thereafter be repackaged in another bag, sealed and sold to buyers.
Badewole said the rice sellers confessed that they used to buy empty rice bags from Lagos to repackage the quantities that was stolen from the original bags.
"Based on the information from our operations directorate headquarters that underweighted bags of rice were in circulation, we went to the market with our scale.
"But it is very unfortunate that many of these small bags of rice have been reduced by the sellers to make more gain," he said.
Badewole said all the shops where the underweighted rice were found had been sealed and put on hold.
He, however, said the confiscated bags of rice would not be destroyed but rather it would be rectified, a process that would be carried out by the sellers under the supervision of SON's enforcement unit.
"Since the intention is not to further destroy the economic strength, the option we will probably put forward is rectification and fine.
"That is, we will ensure that all the bags of rice that were tampered with are filled up to the normal kilogrammes under our supervision, before they are put up for sale, because that is what the standard says," he said.
Badewole said any rice seller that refuses to carry out rectification would forfeit all the underweighted rice to SON.
He noted that the exercise was a continuous one, and warned rice sellers against shortchanging people.
"I want to warn rice sellers to always ensure that their bags contain the right quantity of the produce.
"They should stop deceiving people and allow people to have value for their money," he said.
Badewole, who highlighted that the raids would soon be carried to all the supermarkets in the state, said the organisation would not relent in its efforts at sanitising the system.