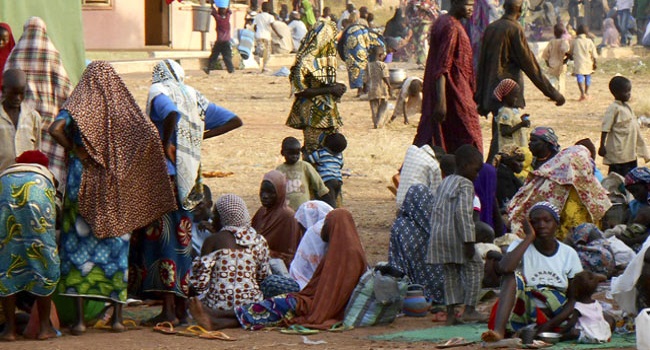 The National Human Rights Commission (NHRC) has advised the Federal Government to urgently address issues of displaced persons in the north-east part.
The Executive Secretary of the NHRC, Professor Ben Angwe, who spoke at a forum on Tuesday in Abuja said many victims who fled the country because of insurgents' activities could no longer identify themselves as Nigerians.
Mr Angwe said Africa was being confronted with the problem of statelessness, due to conflict and terrorism.
"The realities of our time present situations that we never envisaged in our country.
"Just as Nigerians are becoming suicide bombers, very unfortunate circumstances, so are many Nigerians, today becoming stateless people," the NHRC Executive Secretary said.
He declared that Statelessness had become a human rights issue, pledging that the commission would continue to protect Nigerian's rights at all times.
"It is becoming very obvious that some Nigerians in some communities are stateless without our knowledge," Professor Angwe stated.
A representative of the United Nation High Commission for Refugees, Angele Dibonque-Atangana, stressed the need for governments across the globe to work towards addressing the causes of statelessness.
She announced measures being taken by the commission to address the issue.
"UNHCR has the mandate to identify, prevent and reduce statelessness and also protect and seek solution for those persons that face statelessness.
"Working with governments and crucial partners, the office is implementing a 10-year campaign to eradicate stateliness between now and 2024.
At the forum organised by the NHRC were human tights experts who gathered to see how to address the issue of statelessness, which is said to be on the increase in Nigeria, as a result of terror attacks on communities in the north-east, the stronghold of the Boko Haram terrorist group.
The one-day forum on statelessness was aimed at creating awareness on statelessness and the increasing number of stateless councils, as some Internally Displaced Persons have become refuges in another country.