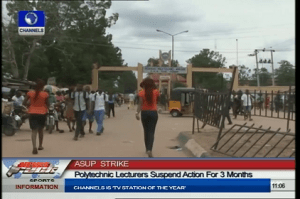 Polytechnic lecturers over the country have resumed duty after embarking on a 10 month old strike was suspended to enable the new Minister of Education, Ibrahim Shekarau settle down in office.
Channels Television visited some Polytechnics around the country to capture the mood of students and lecturers as they gradually settle for a long break.
The Federal Polytechnic Nekede in Owerri, Imo State said they are set to resume academic activities as soon as students troop into their campus on the day of resumption.
The Deputy Rector of the polytechnic, Desmon Okparaku, said both the lecturers and students are happy to be back after the long strike.
However, in Yaba College of Technology, most of the students who were hoping to resume immediately were asked to hold as lecturers of the institution were hholding a meeting to make a decision on the next step.
A student of the Institution, who had checked the notice board to find some information about the called off strike, was told by his mates that the school authorities were having a meeting.
The ASUP Chairman, Yaba College of Technology, Lagos chapter, Mr Adeyemi Aromolaran, said the chapter formally announced officially that the 10 month old strike had been suspended for three months and urged lecturers to double their effort in gaining some of the lost period activities.
He further stated that "it will be wrong for people to believe that students should resume lectures today," he said, explaining that the strike was called off today.
However students and lecturers said it was a right directive for the union to call off the strike.