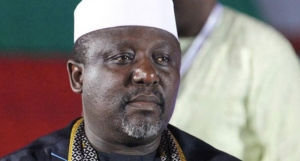 The Imo State government has launched a teachers' professional development programme aimed at retraining teachers and keeping them abreast of current ways of performing their duties.
The development is in line with the State government's determination to raise the standard of education and enhance effective teaching and learning in schools.
The event was flagged-off on Sunday at the Nicks Banquet Hall in the Government House in Owerri, the Imo State's capital in south-west Nigeria.
Speaking on behalf of the Imo State Governor, Rochas Okorocha, his wife, Mrs Nkechinyere Okorocha, said the programme was organised by the State government under the Imo State Universal Basic Education Board (IMSUBEB), in collaboration with the Universal Basic Education Commission (UBEC).
Mrs Okorocha explained that the training was invented to demonstrate the love the Okorocha-led administration had for education, stressing that it was evident in provision of quality free education programme going on from primary school to tertiary institution in the state.
She also advised teachers in the state to take advantage of the training to develop themselves in order to compete with their counterparts around the world.
Emphasising further on the training, the Executive Chairman of IMSUBEB, Getrude Oduka, explained that the teachers would be privileged to attend special courses at the Imo State University, Alvan Ikoku University of Education and Imo State College of Advanced Professional Studies.
Similarly, the South-East Zonal Coordinator of UBEC, Sylvester Eyinnaya, expressed optimism that the training would enhance effectiveness and solve some major problems encountered by the teachers in major subjects like English, Mathematics, Science and Technology amongst others.
A total of 1,500 school teachers are expected to have been trained across the state at the end of the programme.
While commending the State government for the gesture, the Speaker of the Imo State House of Assembly, Honourable Iheanacho Ihim, said the programme would go a long way to get the teachers updated in their activities.
In another development, Mrs Okorocha presented over 50 wheelchairs to some physically challenged pupils to aid their movement.