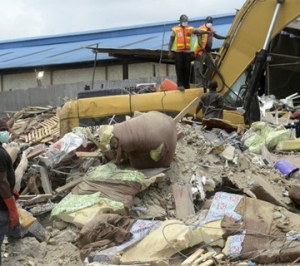 Lawyers and interested parties failed to turn up for the Lagos State Coroners Court sitting in Ikeja, into the cause of the collapsed guest house owned by the Synagogue Church of All Nations (SCOAN).
A situation that showed that judiciary activities is yet to commence in full force in Lagos although the judiciary workers strike is over.
This consequently led the court, presided over by Chief Magistrate Oyetade Komolafe, to adjourn till Tuesday, February 17, 2015 for continuation of hearing.
Before fixing the date, Chief Magistrate Komolafe had expressed the court's determination to see to the end of the matter in two weeks' time.
He urged lawyers and interested parties not to deploy delay tactics as proceedings continue.
The magistrate also announced that the remaining days in the week would be used to give interested parties the opportunity to view the CCTV footage already before the court.
The strike earlier embarked upon by members of the Judiciary Staff Union of Nigeria (JUSUN), had frustrated the adjourned sitting of the court.
The building, a guest house in the premises of the Synagogue Church Of All Nations, collapsed on September 12, 2014, leaving over 80 persons dead.
After the collapse, the Founder of the church, Prophet T.B. Joshua, released a video that showed an aircraft flying over the building several times before its collapse.
The Nigerian President visited the Synagogue Church and the scene of the incident. He promised that the incident would be investigated.