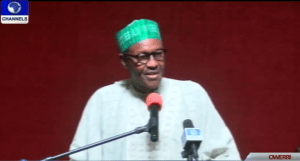 The former Governor of old Kaduna State and Elder Statesman, Alhaji Balarabe Musa, and the National Chairman of the All Progressives Congress (APC), Chief John Oyegun, have disagreed on the ability of the new government to take Nigeria to the next level.
While Alhaji Musa is asking Nigerians not to expect anything different from the new government because, according to him, it is the same old people in a new club or party, so nothing different should be expected.
The National Chairman of the party, Chief Oyegun, disagrees totally with Alhaji Musa's claim,  saying Nigerians should expect good result from the APC led government.
Both men spoke to Channels Television on Telephone on our programme, ''The Inauguration''.
Chief Oyegun explains further that the APC believes in uplifting the lives of the ordinary Nigerian and would not deviate from that and that the President, Muhammadu Buhari, is a tested leader who is incorruptible, adding that there is hope for a better Nigeria.
On his part, Alhaji Musa said his assessment of the character of the leaders in APC brings him to the conclusion that nothing has changed.