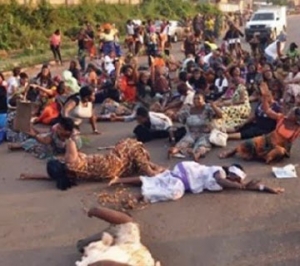 Hundreds of Nigerian soldiers' wives who took to the streets in Maiduguri on Monday to protest the deployment of their husbands for military duties in Gwoza, in Borno, were asked to return home as their husbands were under oath to protect the territorial integrity of Nigeria.
The Nigerian soldiers' wives, who eventually settled at the main military barracks in north-eastern Maiduguri city, had questioned the insistence of the Federal Government in continuing to wage war against the insurgents despite limited military facilities.
The Director of Defence Information, Major -General Chris Olukolade, told Channels Television that the issue being raised by the women was unacceptable.
According to him, "It is not normal or proper for any officer or soldier to decide where he or she would be deployed, neither would such demand be encouraged from spouses in a period of serious operation."
He also explained that the entire nation was depending on the Army to address the security challenges, therefore it was wrong for spouses to begin what he called a cowardly act which was capable of demoralising the military.