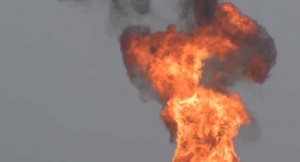 A fire incident caused by human error has left two people dead and seven burnt, with properties worth millions of Naira destroyed at the Adigbe area of Abeokuta, the Ogun State capital.
According to eyewitnesses, the fire started when an artisan was welding a faulty gas tank at a petrol station in the area.
The incident attracted a huge crowd of residents while men and officers of the Ogun State Fire Service helped to put out the fire.
But for the quick response of the firemen, the fire could have caused more damage but nevertheless, two persons lost their lives in the incident.
The State Director of the Ogun State Emergency Management, Adebakin Aremu said the agency would commence sensitization of residents on how to prevent fire accidents.
He called for more caution among residents to avert a recurrence and such avoidable loss of life.