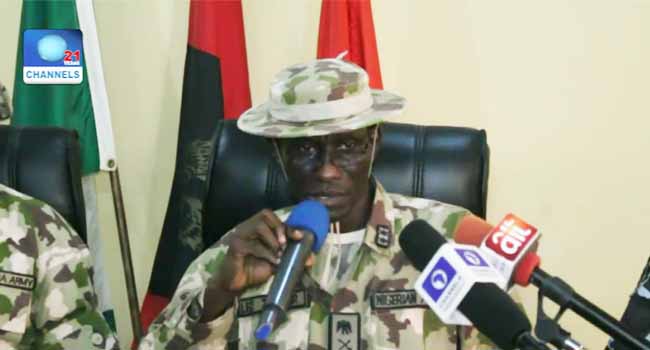 The Theatre Commander, Operation Lafiya Dole, Major General Lucky Irabor, has stated that the military outfit is tirelessly rendering support to myriads of Humanitarian Agencies, to alleviate the sufferings of Internally Displaced Persons (IDPs) and other locals in a bid to win the peace and restore development in the region.
General Irabor made this disclosure during a meeting with the Deputy Executive Director, United Nations Children Education Fund (UNICEF), Omar Abdi, who led a four-man delegation to the Headquarters Theatre Command on Wednesday.
Describing UNICEF as a household name in Nigeria, the Theatre Commander further stated that the military outfit regularly interfaces with UNICEF and other Humanitarian Agencies through its Civil-Military Affairs Department, to facilitate their activities in the North East.
Irabor called on UNICEF to strengthen developmental infrastructures such as medical and educational facilities in the localities, to enable those IDPs who had returned to their communities have access to health and educational infrastructures.
Also speaking at the meeting, the Deputy Executive Director, UNICEF, commended the troops of Operation Lafiya Dole for a successful campaign against terrorism, cataloged the objectives of UNICEF in the North East to include concerns for life saving activities, humanitarian activities, nutritional health, education and protection of children.
He expressed the desire of the international body to expand its humanitarian activities to those areas where the body is yet to access.
However, he added that the support of Operation Lafiya Dole is very crucial to the expansion.