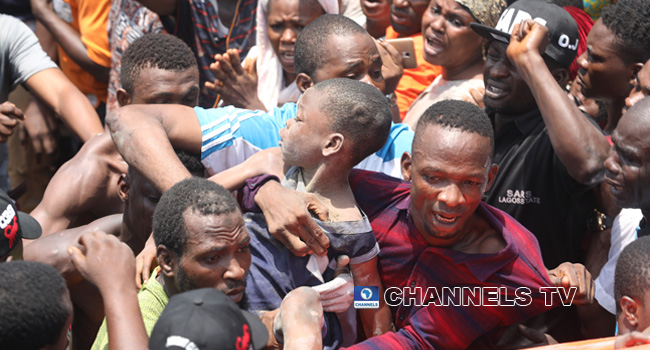 At least 24 victims, mostly children have been rescued from the rubbles of a three-story building which collapsed in the Ita Faji area of Lagos Island.
The children, most of whom are pupils of a primary school located on the top floor of the building, were rescued by officials from emergency rescue agencies and residents of the area, as hundreds swarmed the site.
They were immediately rushed to the Lagos General Hospital, Marina, where some parents anxiously trooped in to confirm if their children were fine.
Read Also: Lagos Building Collapse: Buhari Sympathises With Families Of Victims
As rescue operations continued, Channels Television spotted a pupil covered in dust, being pulled from the rubble to a cheering crowd.
Nine persons have, however, been confirmed dead as officials of the Lagos State Emergency Management Agency (LASEMA), National Emergency Management Agency (NEMA), the Police, Army and National Security and Civil Defence Force (NSCDC) make frantic efforts to rescue the remaining victims.
Read Also: Building Collapse: Ambode Urges Residents To Allow Rescue Operations
Read Also: Children Feared Killed, Others Trapped In Lagos Building Collapse
The building, situated at Massey Street in the Ita Faji area of Lagos Island, is said to be about 30 years old.
It is one of those which had since been marked by the Federal Government for demolition in the densely populated area.
It, however, caved in at about 9:45 am on Wednesday, raising fears for the lives of the hundreds of inhabitants.
See photos below.