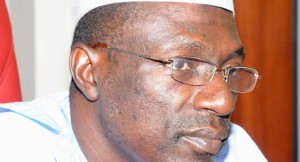 The Peoples Democratic Party's Caretaker Committee Chairman, Ahmed Makarfi, has officially taken over the affairs of the party, including the daily operations of the party's national secretariat in Abuja.
The Chairman of the party's Board of Trustees, Senator Jubril Walid, told party members at the handing over ceremony in Abuja that the Ahmed Makarfi-led caretaker committee would be the one to conduct another convention that will elect principal officers for the party.
Apart from preparing the party for a national convention, the caretaker committee is also expected to reconcile the erstwhile chairman, Ali Modu Sheriff and others who were aggrieved after the party's convention in Port Harcourt, Rivers State.
A reconciliatory meeting had been held which lasted into the early hours of Tuesday. Although, the embattled chairman of the party, Ali Modu Sheriff, was absent in that meeting, other aggrieved members were reconciled,
This gave rise to the official handing over of the party's secretariat to the caretaker committee at day break.
Mr Makarfi has assured members of the party that he would stick to the mandate given to his committee.
Some members of the various interests groups who were initially aggrieved have also pledged to support the caretaker committee.
It was generally agreed that all aggrieved members should reunite and form a common front to provide credible opposition to the incumbent government.