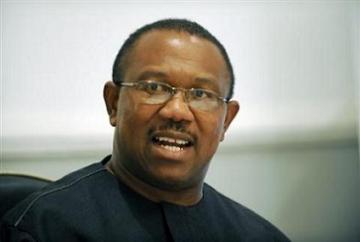 The Anambra State governor, Peter Obi, has presented a budget of N110.890 billion for the 2013 fiscal year to the state House of Assembly.
The budget tagged the "Peoples' Budget of Integrated Development 6" represents an increase of 33.28 percent over the 2012 budget  which was N83.2 billion. The budget also has N70.895 billion for capital expenditure and N39.995 billion for recurrent expenditure.
The governor, while presenting the budget, brought under review the implementation efforts of the 2012 budget in which he said in spite of the state's weak financial base, made even weaker by poor internal revenue generation, all available resources and opportunities were used to bring about visible changes in the state.
He outlined the break through the state made in the areas of roads and transport, commerce and industry, agriculture, education, health, environment and water and electricity.
On the budget for the 2013 fiscal year, Mr Obi maintained that it reflects the critical development needs of the people of Anambra state as expressed in the key sectors of the state economy.
He reminded the state lawmakers that the budget is premised on eight focal points chiefly of which is to sustain and intensify various interventions in the area of poverty reduction for the eradication of extreme poverty and hunger.
The governor concluded with a resolve to ensure that Anambra state is left in a better shape than its earlier status.
The appropriation bill was presented with a motion for its first reading moved by the Majority leader, Hafford Oseke, representing Awka South and seconded by the Minority leader, Tony 'Oneweek' Muonagor, representing Idemili North constituency.
The Speaker of the House, Chinwe Nwaebili, however pledged accelerated hearing on the budget and its speedy passage while urging the governor to make provision for offices for the members of the State parliament.
Breaking down the budget, the governor said the economic sector received a sizeable allocation on account of the capital intensive nature of its component sub-sectors as Land, Transport, Roads and bridges to which N16.172 billion has been allocated. Funds allocated to key sub-sectors are as follows
| | |
| --- | --- |
| Sector | Allocation |
| Education | N10.224 Billion |
| MDG Programmes and Projects | N9.777 Billion |
| Finance and Investment | N3.060 Billion |
| Environmental Development | N2.483 Billion |
| Water Supply and Resources | N 2.470 Billion |
| Housing and Urban Development | N1.407 Billion |
| Health | N1.229 Billion |
| Town and Country Planning | N 1.086 Billion |
| Agriculture | N1.007 Billion |
| Commerce and Industry | N1.002 Billion |
| Rural Electrification | N0.810 Billion |
: