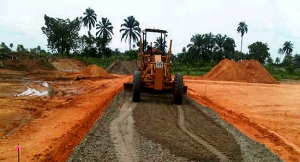 The Delta State Government says it has kept its promise to dualise the Nnebisi road which is about 70% completed, from the traffic light to the cable Point which terminates at the bank of the River Niger.
The government says the development was to actualise the vision of Governor Ifeanyi Okowa's administration of even infrastructural development in the state.
The state's Commissioner for Works, James Augoye, made the disclosure in Asaba, the Delta State capital, south-south Nigeria.
Augoye revealed that the road construction is in two phases with the first phase from Nnebisi Road to the Cable Market which is about 1.71 kilometres.
He added that the second phase would be from the market to River Niger as a single carriage road.
The Commissioner gave an insight on the characteristics and value of the road, stressing that the government would only embark on projects that were geared towards the economic development of the state.
He pointed out that without good roads, it would be impossible for economic activities to thrive, even as more deliverable was expected from the government.
The Cable Market is at the centre of the connection between the Igalas in Kogi State, the Igbos of Asaba in Delta State and the Igbos of Nteje in Anambra State.
Although some of the traders had raised concerns on the project, they commended the state government for its efforts so far.
They said the road was known to be very bad as it distorts the activities of farmers, traders and other road users.