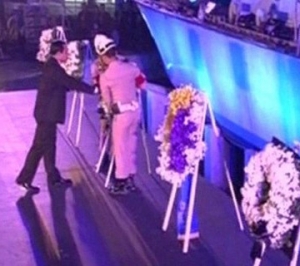 Today marks the 10th anniversary of the 2004 tsunami which killed over 200,000 people in Asia.
Memorial services are being held in Indonesia, Sri Lanka, Thailand and India for the victims of the Indian Ocean tsunami.
In Indonesia's province of Aceh – the worst hit area – Vice-President Jusuf Kalla led tributes to the dead at the Siron mass grave.
A series of solemn events and religious rites have also been held in Thailand to mark the anniversary.
Prime Minister Chan-ocha laid a wreath for victims at the site of a beached police boat that has become a symbol of the disaster.
Thai police boat 813 was swept nearly 2km (1.2 miles) in from the sea at Bang Niang near Phuket.
"This heavy loss serves as a reminder and lesson for everyone" he told thousands of guests.
A 9.15-magnitude quake opened a fault line deep beneath the ocean a decade ago and triggered a wave as high as 57 feet which crashed ashore in more than a dozen countries, wiping some communities off the map in seconds.
The tsunami also hit Bangladesh, Myanmar, Malaysia, the Maldives and later reached the east African nations' of Kenya, Somalia and Tanzania.