American Artist, Kanye West, during his concert in San Jose, California, told fans, "specifically to black people, stop focusing on racism".
Not only did the rapper offer what majority considered to be a 'late-to-the-table' endorsement of Donald Trump, but he also wowed fans as he went on about his opinion on race.
Towards the end of the show, West said "before I get out of here I want to talk about race and the idea of racism in America and the world".
He stated that although he did not vote during the U.S presidential elections, if he did, he would have voted for Trump.
He then went on to talk about the idea that the outcome of the election may have had some effect on racism in the United States – something he believes black Americans should get over.
"This world is racist, OK? Let's stop being distracted to focus on that as much – we are in a racist country."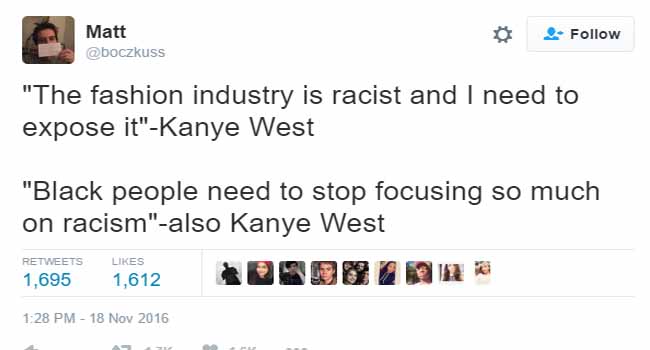 His comments have been greeted with much criticism over social media, coming from a man who once claimed racism against him in the fashion industry.
He had also said "George Bush does not care about black people".
West, however, added that neither candidates would have been able to eradicate racism.
"Not one or the other candidate was going to instantly be able to change racism because of their views," he stated.