The Lagos High Court sitting in Ikeja on Wednesday granted bail to the former Managing Director of Bank PHB (now Keystone Bank), Francis Atuche who was arraigned on Tuesday on fresh charges of alleged forgery.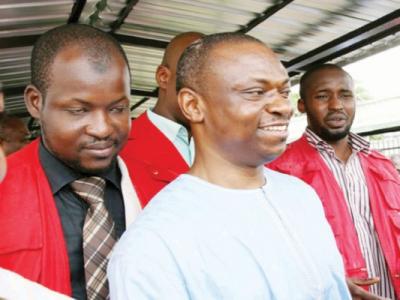 Presiding Justice Adeniyi Onigbanjo granted the former bank chief bail on self-recognition.
Mr. Atuche was arraigned alongside two employees of Central Shared Services Centre of Keystone Bank Ltd., Joachim Nnosiri and Uguru Onyike.
The Economic and Financial Crimes Commission (EFCC) alleged that the defendants had on March 4, 2013 attempted to smuggle forged board resolutions of some companies into Keystone Bank headquarters in Victoria Island, Lagos.
The men had pleaded not guilty and subsequently filed an application for bail.
In ruling on Atuche's bail application, the judge said he had not violated the bail conditions earlier granted him in the other cases against him which are pending before Justice Lateefat Okunnu.
Counsel to Mr. Atuche, Mr. Tayo Oyetibo (SAN), in the application for bail had claimed that the forgery charge was subservient to the N25.7 billion theft charge before Justice Okunnu.
Mr. Oyetibo said the board resolutions which were purportedly issued by Future View Securities Ltd.,Tradjeck Ltd. and Extra Oil Ltd. were vital to the EFCC's case against the former bank chief.
"The claims by the Managing Director of the companies, Mrs Elizabeth Ebi, that Bank PHB granted the companies a N10.9 billion loan facility without any formal request, was contradicted by these documents," he said.
"Okunnu issued a subpoena on Keystone Bank, the successor of Bank PHB, to produce the original copies of these board resolutions".
Mr. Oyetibo said the bank had on March 4, informed the court that they were still searching for the documents, while Mrs Ebi was further cross-examined with the copies in the possession of Mr. Atuche's counsel.
According to him, Mrs. Ebi had denied signing the board resolutions but admitted that the signatures were similar to hers.
"Rather than leave the court to determine if the said documents were forged or not, the EFCC hurriedly arrested the defendant and charged him with forgery," Mr. Oyetibo said.
EFCC counsel, Mr. Ben Ubi, however, maintained that the charge before the court was separate from the proceedings before Justice Okunnu.
Justice Onigbanjo has, however, fixed the 28th of March for ruling on the bail applications of Mr. Atuche's co-defendants.
He also fixed the 4th of October for trial.