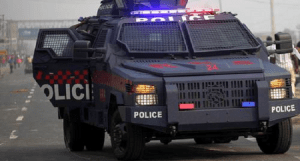 Police have discovered 1,333 live ammunition of 7.762mm long hidden in a School playground in Abia State, south-east Nigeria.
The discovery was made by the Explosive Ordinance Department of the Abia State Police Command at the school located in Nkata- Ibeku, Umuahia North Local Government Area.
Addressing reporters in Umuahia, the Commissioner of Police in the state, Joshak Habila, said the effort was in line with the commitment of the Nigeria Police Force to flushing out criminals in order to maintain the safety of lives and property of citizens of the State.
According to the police, the discovery was made with the aid of an informant at Nkata Primary School, Bende Road.
Mr Habila said the police would continue to make efforts to ensure calm and safe environment for residents of Abia to transact their business.
He promised to continue to work tirelessly with men of his command to ensure zero-tolerance of crime.
The police also arrested an undergraduate of Michael Okpara University Of Agriculture in Umudike, Abia State, for allegedly using a hot iron on two of his young relatives.
The police swung into action to arrest the student after they received a report that an act of inhuman treatment was melted out against two young underage girls, Hope, 11 and Ngozi, nine.
The two young girls, living with their auntie and family, are said to have allegedly stolen the sum of 100 Naira only.
The undergraduate, who also is their relative, burnt their legs and feet with the hot Iron
Meanwhile, the police command has embarked on an intensified effort to reduce crime in the state and urged residents to partner with them by volunteering information at all times.