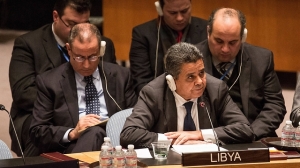 Libya has asked the United Nations to lift an arms embargo on weapon sales to the country's internationally recognised government so that it can deal with the Islamic State of Iraq and the Levant (ISIL) group.
Libya's Foreign Minister, Mohammed al-Dairi, said this would help the government build its army and deal with "rampant terrorism".
Dairi told the UN Security Council in New York on Wednesday, that the UN "shouldered a legal responsibility" to help in the rebuilding of Libya's army.
He stressed that Libya needed a "decisive stance" from the international community to help build the country's national army's capacity, adding that it could only come through a lifting of the embargo on weapon sales to the country.
"If we fail to have arms provided to us, this can only play into the hands of extremists," he said.
Libya has been under an arms embargo since the 2011 uprising that drove out the former long-time leader, Col Muammar Gaddafi and his armed forces.
The Libyan government is already allowed to import weapons and related materiel with the approval of a Security Council committee overseeing the embargo.
Dairi's appeal came after fighters pledging allegiance to ISIL released a video on Sunday purporting to show the beheading of 21 Egyptian Christians.
Egypt launched air strikes in Libya on Monday the following day.
Egypt's Foreign Minister, Sameh Shoukry, said he supported the lifting of the embargo as events in Libya posed an "enormous danger".
Dairi said Libya was seeking "support to combat terrorism" and "not calling for international intervention".
He also called for a naval blockade on arms heading to areas of Libya that were not in the control of the internationally recognised Tobruk government.
UN special envoy to Libya, Bernardino Leon, said that ISIL can only be defeated with a united Libyan government in place that has strong international support.
The UN is mediating between the rival factions to get them to forge a unity government and end hostilities.