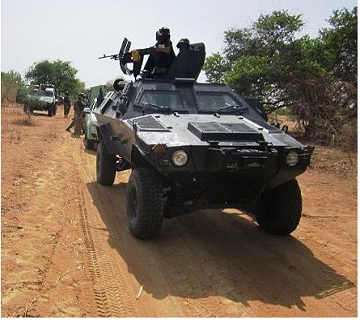 Security formations and properties were on Friday left destroyed following a coordinated attack by gunmen believed to be Boko Haram members on Damaturu, Yobe.
Heavy artillery sounds and sporadic gunshots were heard throughout the night with the continuation of isolated shooting Saturday morning, in the troubled north-east state.
Although authorities are yet to confirm the level of destruction inflicted on the town, residents said the Police "A" division, the state Area Command and the Police officers mess all located in the heart of the town were burnt down by the terrorists.
It was also confirmed that Izala mosque and some shopping complex at the Damaturu motor park were also set ablaze during the invasion.
Residents told Channels Television that Friday's attack may have been prompted by an initial invasion by the security forces on Gujba and Gulani areas, believed to be strongholds of the insurgents.
They also recovered of some arms and ammunitions.
The reprisal attack by Boko Haram started late Friday evening as residents scrambled for safety after gun shots were heard. It is believed that some armed security personnel who were keeping vigilance on the town engaged in a battle with the insurgents, around the southern part of the town.
Although security forces have not confirmed the casualty figure, hospital sources said only one corpse was brought to the hospital morgue this morning.
However, normalcy is said to have been restored in the town, and no pronouncement has been made concerning the imposition of curfew.
Residents have remained apprehensive and have also stayed indoors for fear of further attack or be mistaken for the insurgents by armed security personnel keeping surveillance on the town.
They have now urged government and security forces to be more proactive in their fight against the insurgents as Maiduguri might become a landlocked area if the insurgents get grip of Damaturu among other towns in Yobe state.