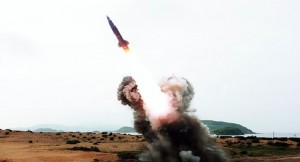 The UN Security Council has strongly condemned North Korea's launch of a long-range rocket, with members considering new sanctions.
After an urgent meeting in New York, the council said it would soon adopt a new sanctions resolution in response.
The long-rang rocket launch had drawn criticisms from different countries, with North Korea describing the act as a test of 'Banned Missile Technology'.
Pyongyang said it fired the rocket to place a satellite in orbit – but critics believe the real purpose was to test a ballistic missile.
Sunday's launch comes weeks after North Korea held a fourth nuclear test – both acts violate UN resolutions.
Speaking after the closed-door talks, Venezuela's UN envoy Rafael Ramirez, the current council president, said: "The members of the Security Council strongly condemn this launch."
He called it "a serious violation of the Security Council resolution".
The BBC quotes US Ambassador to the UN, Samantha Power, as saying that Washington would now "ensure that the Security Council imposes serious consequences" on Pyongyang.
"There can be no business as usual. We'll come up with something tough," she said.
Her words were reiterated by Japanese envoy Motohide Yoshikawa, who said sanctions must be strengthened.
"The existing sanctions have not stopped North Korea from developing nuclear weapons," he said.
The council meeting was requested by South Korea, Japan and the US.