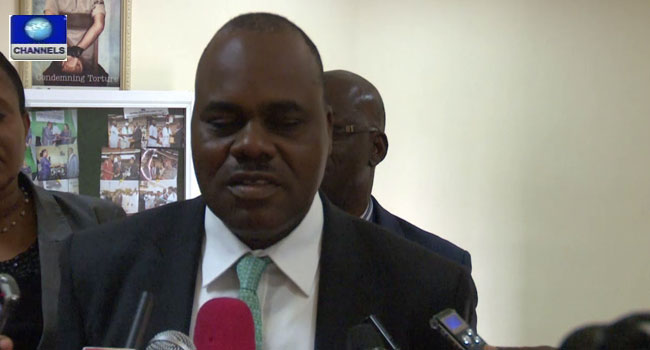 The National Human Rights Commission (NHRC) has called for international cooperation in fighting what it termed 'economic terrorism' in Nigeria.
The Executive Secretary of NHRC, Professor Ben Angwe, made the appeal on Tuesday during a consultative meeting with a 10-man delegation from the United States in Abuja.
Professor Angwe told the White House security delegation that diversion of funds meant for fighting insurgency to other countries, puts the lives of many Nigerians at risk, while stressing that such needed to be tackled and the funds recovered.
He stressed the need for Nigeria to collaborate with the international community to fight the two major forms of terrorism – insurgency and economic terrorism.
Reacting to the human rights violations by the Nigerian military in its war against terror, the NHRC boss said that there has been a clear indication from the military that such violations would no longer occur.
He added that a special investigative panel had been deployed to look into such abuses, specifically the recent clash between the Nigerian Army and members of the Islamic Movement of Nigeria.
In his reaction, the head of the US delegation, Ambassador Stephen Nolan, observed that such incident could only arise out of weakness in governance, saying the consultative meeting was set to tackle such matters.
He added that the meeting would fashion ways to help improve the justice and security sectors of the country for better service delivery.
The delegation had experts from the United States Departments of Justice, Homeland Security, International Development and Governance.