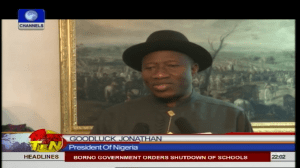 President Goodluck Jonathan at the Vatican City conferred with Pope Francis I on the promotion of inter-faith dialogue in Nigeria and other parts of the world to foster greater global peace and security.
Speaking to journalists after his private meeting with Pope Francis, President Jonathan said that the promotion of inter-faith dialogue was a cause to which the pontiff was very committed.
The president who said that his administration was already working in close collaboration with Cardinal John Onaiyekan who was "the team leader" for the effort to strengthen inter-faith dialogue in Nigeria, assured the pope of his administration's continued commitment to the promotion of religious harmony and the peaceful co-existence of people of all faiths.
In their meeting, the President assured the Pope of diligence in the administration's effort to alleviate poverty in the land. He also gave the pope an update on the interfaith programme in Nigeria.
The Pope, President Jonathan said, also assured him that he would continue to pray for God Almighty to bless the country and its people.
"My coming to see the Pope was to discuss issues, especially that of inter-faith dialogue which the Vatican has been promoting.
"Also the Pope has been advocating that the world should do more to eradicate poverty and make sure that the ordinary people of this world are in a position to live more decent lives. The Pope is very dedicated to poverty alleviation and I also interfaced with him on how we can collaborate more with the Vatican on what we are already doing in this regard back home," the President said.
After his private meeting with President Jonathan, Pope Francis received the First Lady, Dame Patience Jonathan, the Minister of State for Foreign Affairs, Prof Viola Onwuliri, Governor Godswill Akpabio and his spouse, Governor Gabriel Suswam, former Governor Peter Obi and his spouse, the wife of the Senate President, Mrs. Helen Mark and other members of the President's entourage.
Others present at the enlarged audience with the Pope included Nigeria's Ambassador to the Vatican, Dr. Francis C. Okeke, the Chaplain of the Presidential Villa, Venerable Obioma Onwuzurumba and Chief Mike Oghiadomhe.
Before leaving the Vatican, President Jonathan also conferred with the Secretary of State, Monsignor Pietro Parolin. He had received Nigeria's Vatican-based Cardinal Francis Arinze earlier in the day at the St. Regis Hotel in Rome.