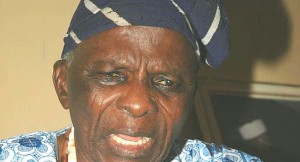 The Vice Chancellor of the University of Ibadan has described the late Olubadan of Ibadan Land, Oba Samuel Odulana (Odugade I), as one of the University's quintessential icons.
The late Olubadan was one of the natives who was instrumental to the release of the land on which the University of Ibadan was built to the colonial government.
Professor Abel Idowu Olayinka made the disclosure in a statement by the University's Director of Public Communication, Mr Olatunji Oladejo.
He said that the premier institution was eternally grateful to Oba Odulana for his wonderful contributions to the sustainable growth of the University.
"Right from the beginning of the institution, he showed tremendous interest in the activities of the institution and will remain one of the towering figures in the history of the University of Ibadan," the Vice Chancellor stated.
Describing him as one of the pillars of the modern Ibadan and Nigeria, Professor Olayinka added that "even when he was frail in health, he continued to encourage the enthronement of good governance in Nigeria through intellectual discourses and contributions".
The academic recalled that it was in recognition of the late monarch's invaluable contributions to all strata of education in Nigeria that the University honoured him with an honorary degree (LL.D) in 2010.
"Oba Odulana helped to build a generation of hardworking, decent and transparent Nigerians through his services in many capacities as a teacher, public administrator, soldier and politician. We are encouraged by the fact that he was an uncommon gift to the education family and humanity,"he said while stressing that his immense legacy would continue to be a guiding light to future generation.
Speaking on behalf of the council, Senate, congregation, management, staff and students of the University of Ibadan, Professor Olayinka commiserated with the Oyo State Governor, Abiola Ajimobi; the National President, Central Council of Ibadan Indigenes, Chief Wole Akinwande and the good people of Ibadan on the death of the great monarch.