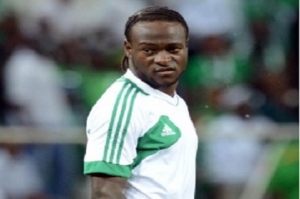 Coach of the Nigerian Super Eagles, Stephen Keshi, has insisted that he doesn't have any grudge against Victor Moses, claiming that he is being left out of the team for tactical reasons.
Moses started Eagles' first game against Iran but was an unused substitute against Bosnia and Argentina.
However, Moses failed to show up for the team's pre-match warm-up against Argentina, prompting speculations that the Chelsea forward might have been displeased by his exclusion.
"I have no grudge against Moses, neither am I aware that he is complaining. My big daughter is older than Moses, so what is the point in nursing grudges against him? If he does anything wrong it is my job to correct him", Keshi said.
Media reports have claimed that there was a bust up between the coach and the player ahead of the game with Argentina. Reports also claim that Moses refused to sit on the bench, instead preferring to stay in the bleachers after learning he was not going to start against the Albiceleste.
But the player, in recent tweets, has claimed that he was indeed injured.
"The lads were brilliant again yesterday and did the country proud. Gutted to miss it again with a muscle strain but working hard to get back fit and strong for France game", Moses tweeted moments after the team's official release had been made public.
Nigeria are expected to travel out of their team base camp in Campinas on Friday afternoon at 2pm local time, which would be 6pm Nigerian time to Brasilia for the game against France on Monday.