The Governor of Abia state, Okezie Ikpeazu, has promised to revamp the educational system in the state.
He said that "the state would soon notice a complete change and revolution in education, as government has put in place a framework to ensure that model schools spring up in the three senatorial zones".
He made the commitment while addressing participants at the National Television Authorities (NTA) National Arts, Science and Technology competition ETV (EXPO) 2016.
Receiving the trophy won by the students in the competition, at the Government House, Umuahia, the Governor also gave cash rewards to the students as well as teachers of schools that emerged as winners.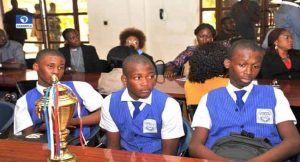 The schools which are located in Aba, the commercial centre of Abia State, include Dorothy International college, emerging overall best, with a cash reward of 500,000 Naira, while the first and the second runners –up, Divine College International and Victory International College, were rewarded with 300,000 and 200,000 Naira respectively.
The teachers and NTA crew were equally given 500,000 Naira each.
Governor Ikpeazu expressed joy that "Abia by the victory, has again made a statement in the educational firmament of the country".
Furthermore, he said, "the greatest strength of the state lies in her human resources, and I think that the state can always work out her destiny.
"I want to commend the schools, especially the college, for consistently doing the state proud and I congratulate the teachers and students for their hard work and perseverance.
"Regrettably, Nigeria as a nation has been unable to apply the fallout of research efforts, and this administration cannot afford to ignore the impact of the inventions by the students.
"This government will do everything possible to take the research by these students another step forward to see if it can be replicated commercially," the Governor added.