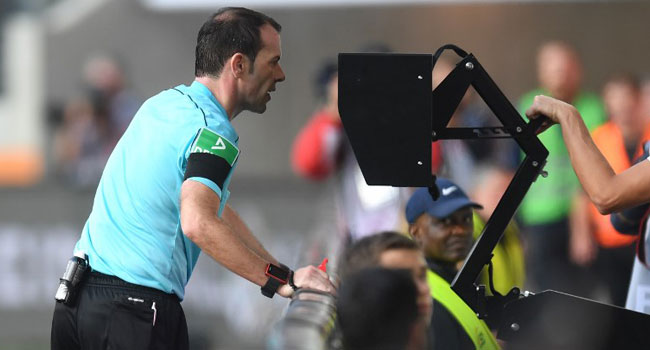 A video referee will be used in England's friendly against Germany at Wembley on Friday, half a century after one of the most controversial decisions in the history of the game at the 1966 World Cup final.
Last year the International Football Association Board approved a two-year trialling of the video refereeing (VAR) system.
It is being used in Italy and Germany this season but Friday's match will see it used for the first time in an official game in Britain — during a fixture that has been seen its fair share of controversial goalline incidents.
The debate over whether Geoff Hurst's goal in the 1966 World Cup final crossed the line during England's 4-2 win at Wembley has never gone away while Frank Lampard's disallowed strike during England's 4-1 defeat at the 2010 World Cup in South Africa was shown to have crossed the line by technology.
Video assistant referees, watching the game on TV screens, are available to review four types of situation — goals, penalty/no penalty decisions, straight red cards, and cases of mistaken identity.
It is only to be used "to correct clear errors and for missed serious incidents" in those "match-changing" situations, the IFAB has said.
VARs and other match officials are able to recommend reviews but the only person who can initiate one is the referee, who will then have the final say on whether their original decision should stand or be changed.
They have the option to review footage themselves on a pitch-side monitor before making a final decision.
A trial of the system passed without incident during last month's 2017 Wembley Cup charity match.
FIFA have yet to confirm whether VARs will be used at next year's World Cup in Russia, but the fledgling system has had a mixed start in Germany.
There has been furious debate over when the VAR should intervene and how long it takes for decisions to be reviewed.
AFP