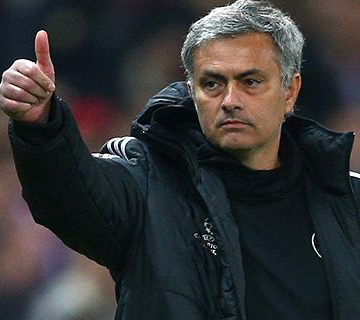 Jose Mourinho has praised the impact made by Cesc Fabregas early on in the Spanish midfielder's Chelsea career.
The former Barcelona man only joined up with his new team-mates in July, as the team headed for their European training camp, but already his quality seems apparent.
Two goals during pre-season, a stunning free-kick against Vitesse Arnhem, followed by a wonderful individual effort against Ferencvaros, preceded a man-of-the-match performance during Monday's 3-1 win at Burnley, which was capped by the disguised pass to tee up Andre Schurrle for Chelsea's second goal on the night.
"We knew Fabregas was an important player from the moment we tried to buy him," said Mourinho.
"Our team already had a structure and a way of playing on the pitch, but we knew we clearly needed that kind of midfield player and a striker who could play with his back to the goal, hold the ball and associate with the different attacking players. That would make us a different team, not just in terms of results but especially in relation to the style of play.
"Cesc has been important for us, everybody knows how good he is, he was already good as a kid, he disappeared from us for three years but he's back at a fantastic age so I think we enjoy him and he enjoys playing in the Premier League."
Mourinho also addressed the mood of another new signing, Diego Costa, after the striker was booked for simulation at Turf Moor when replays showed he had been brought down by goalkeeper, Tom Heaton, during the first half.
"Diego is upset because he's been behaving extremely well," explained the Portuguese. "He thought it was going to be a penalty and a red card for the keeper, then suddenly it's a free-kick and a yellow card for him, so he was disappointed.
"But, I know Michael Oliver and the linesman know it was an unfair decision, so let's move on."
Meanwhile, the manager hasn't given Petr Cech a personal explanation for his decision to start Thibaut Courtois in goal ahead the more experienced Cech, but insisted the overall needs of the team have to take priority.
"If I speak with him then I have to speak with everybody, I never did this in my career," he said. "I don't feel I have to speak with them [the players] about my decisions. The club is not under my control but the team is, and everything I do is for the best of the team.
"What I always tell them is that they know where my office is, they know where I am and if they need an explanation I never close the door. Petr didn't come to see me, he's worked fantastically well as always. He's with his mates, he's been polite, professional and that's what we need.
"Obviously I have no problem playing him in any match, it doesn't matter when or in which competition, I'm so confident in him. If I decide to rotate when we have an accumulation of matches it's probably the easiest position to do it. As I said, we have two of the three best goalkeepers in the world.
"Sometimes people say a player is experienced or not experienced because of his age, but you can be 22 and still have a lot of experience," explained the Blues boss.
"Courtois has played in the biggest matches you can play in; the World Cup, Champions League final and semi-final, UEFA Cup final and semi-final, big matches against Barcelona and Real Madrid, local derbies, Super Cup.
"Obviously he knows he has to perform but I think he can cope with that because he's very experienced," Mourinho told chelseafc.com.