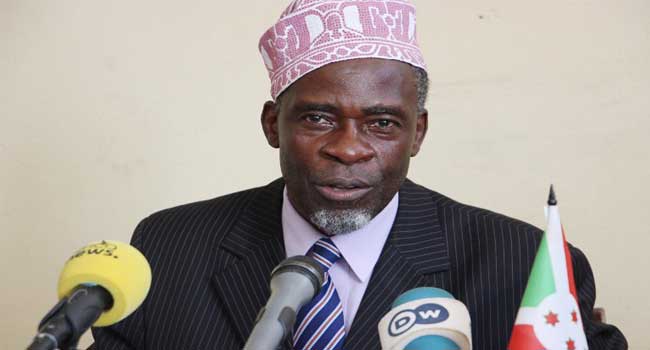 Burundi's press regulator on Friday said it was suspending broadcasts by the BBC and Voice of America (VOA) by local radio stations ahead of a constitutional referendum on May 17.
The head of Burundi's National Communication Council told journalists in Bujumbura that a six-month ban would come into force on Monday.
Karenga Ramadhani accused the BBC and VOA of "breaches of the law governing the press and ethics".
The BBC, he said, "damaged the reputation" of President Pierre Nkurunziza during a discussion programme and had "ignored" previous warnings.
Burundi's government earlier this week urged the regulator to "take action" against the BBC which it accused of spreading "incendiary statements… hatred and subversion".
VOA is accused of spreading "very tendentious" information and hiring a journalist "sought by Burundian justice".
French broadcaster RFI also received a warning for disseminating "tendentious and misleading" information.
Two local stations, Isanganiro and CCIB FM+, were also issued with warnings over an alleged lack of  "rigorous verification of sources".
Both the BBC and VOA broadcast daily in the national language, Kirundi, and have for decades drawn large numbers of avid listeners, especially in rural areas.
"This is a sign of the times, because even the previous regimes never dared to close the BBC, even during the civil war when it gave voice to the rebels who are now in power," a Burundian journalist said on condition of anonymity.
"The Burundian government has decided to silence them while we are in the middle of an referendum campaign, probably so that Burundians do not hear those who advocate 'no' or call for a boycott," he added.
Burundians are due to vote in a constitutional referendum that would allow Nkurunziza to rule for another two terms up to 2034.
The 54-year-old president has ruled the tiny central African nation since 2005. His run for a controversial third term in 2015 triggered a deep political crisis that has since seen 1,200 people killed and 400,000 forced from their homes.
The violence and abuses are being investigated by International Criminal Court (ICC) while a vicious press crackdown has seen the majority of independent journalists leave the country.
The BBC on its website says it broadcasts to Burundi on FM relay stations and on two local partner stations.
VOA says it has two FM transmitters in Burundi "that likely will be shut down if the government follows through on the ban."
"However, listeners still could tune in to VOA broadcasts on shortwave, the internet or FM transmitters in neighboring Congo or Rwanda," it says.
AFP