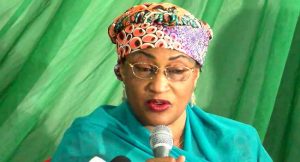 The Minister of Women Affairs, Senator Aisha Alhassan has urged members of Boko Haram to surrender to the government and accept dialogue and negotiation to end the insurgency in the country.
Senator Alhassan, who was speaking at an event to receive sanitary and health donations on behalf of recently released Chibok schoolgirls, said the government was negotiating with Boko Haram for the release of more of the girls and other Nigerians in captivity.
According to the minister, the sect members need to go beyond just negotiating for the girls to talking with the government to put an end to the insurgency.
She said, "We hope that from the negotiations that are still going on, the rest (of the girls) will be released to us very soon.
"I am using this opportunity to call on the insurgents to, please, not only negotiate in respect of the Chibok girls, but to sit and dialogue with the Federal Government; tell the government what their problem is and what their demands are so that, just like we are dialoguing with them to get the Chibok girls back, they will put down their arms and come back home and we will work together to build a greater Nigeria for all of us.
She gave the assurance the government would not rest until all abducted persons are freed.
On his part, the Canadian High Commissioner to Nigeria, who made the donation through the United Nations Populations Fund on behalf of the Canadian Government said the girls deserve all the support they need for their reintegration into the society after a horrific experience.
He expressed the hope that other organisations would do their bit to support not just the girls, but everyone that has been affected by the Boko Haram insurgency.
Over 100 of the 276 schoolgirls abducted from the Government Girls Secondary School in Chibok are still in Boko Haram captivity.