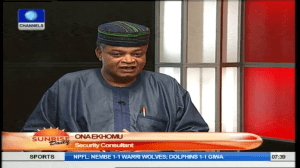 A Security Consultant, Ona Ekhomu, has said that the Government needs to work smarter and harder on their ability to respond to distress calls, when there is an attack.
Speaking on the abduction of about 200 girls from a secondary school in Chibok, Borno State, North-East, Nigeria, Mr. Ekhomu said that these attackers were convicted in the rightness of what they were doing and suggested that they be combated such that they would be uncomfortable doing it.
Mr. Ekhomu shared this view on the Thursday edition of Channels Television's breakfast programme, Sunrise Daily.
Narrating the incident, he noted that the abduction of the girls had no link with money, rather a way of marrying them at a little age or for domestic activities as "they are useful in the scheme of things in their own sub-culture."
He backed the need for the Government to revamp its security architecture, as "Nigeria doesn't have enough troops on the ground to police every kilometer" and "if there is no prompt response the bad guys will run away."
While emphasizing the need for security agencies to be more proactive, he noted that the group that mounted the attack on the school girls were not so resourced, owing to the fact that they (the group) had a broken vehicle and had to push which made some of the girls escape.
He explained that if the security agencies had better engagement with the State Government, Federal Government and citizens of the state to enable communication where emergency arises and distress calls were made, the situation would have contained.
He maintained that the number of men of the JTF spread round the country was not enough to police every square inch of the North, therefore there should be an engagement between the Government and the citizens to reduce these attacks.