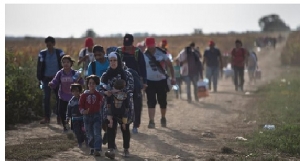 The United Nations Refugee Agency (UNHCR) says more than one million refugees and migrants have reached Europe by sea since the start of 2015.
More than 80 per cent of the 1,000,573 people arrived in Greece, with majority landing on Lesbos Island.
About 844,000 travelled to Greece from nearby Turkey. Most of others – over 150,000 – crossed the Mediterranean from Libya to Italy.
The migrant crisis is Europe's worst since World War Two.