Leaders Tasked to Emulate Chukwuemeka Ojukwu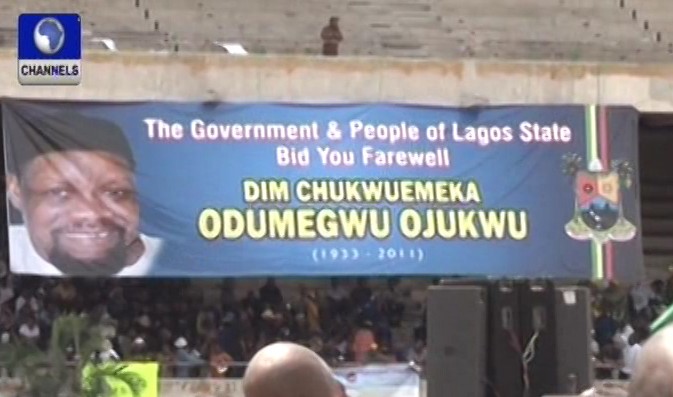 Prominent persons and leaders of Igbo land tasked the leaders in the country to emulate the attributes of justice, equity and peace as displayed by the late Dim Chukwuemeka Ojukwu so that stability will once again return to Nigeria.
At a mass rally in honour of the departed leader, prominent Igbo leaders said only courageous leaders who act with neither fear nor favour can restore the peace and security that have eluded the country for many months now.
They urged the present leaders to learn from the many attributes of Dim Odumegwu Ojukwu and right the many wrongs that has pushed Nigeria down into the depths.
Ojukwu was a Nigerian military officer and politician,he served as the military governor of the Eastern Region of Nigeria in 1966, the leader of the breakaway Republic of Biafra from 1967 to 1970 and a leading Nigerian politician from 1983 to 2011, when he died, aged 78.
Ojukwu came into national prominence upon his appointment as military governor in 1966 and his actions thereafter.
A military coup against the civilian Nigerian federal government in January 1966 and a counter coup in July 1966 by different military factions, perceived to be ethnic coups, resulted in pogroms in Northern Nigeria in which Igbos were predominantly killed.
Ojukwu who was not an active participant in either coup was appointed the military governor of Nigeria's Eastern region in January 1966 by General Aguyi Ironsi.
In 1967, great challenges confronted the Igbos of Nigeria with the coup d'etat of 15 January 1966 led by Chukwuma Kaduna Nzeogwu who was widely considered to be an outstanding progressive and was buried with full military honors when killed by those he fought against.
His coup d'etat was triggered by political lawlessness, and uncontrolled looting and lacing in the streets of Western Nigeria. Unfortunately the Sarduana of Sokoto, Sir Ahmadu Bello; the Prime Minister of Nigeria, Sir Tafawa Balewa; the Premier of the Western Region,Chief Ladoke Akintola and the Finance Minister, Chief Festus Okotie Eboh (among others including military officers) were killed in the process.
The pogrom of Igbos followed in Northern Nigeria beginning in July 1966.Eventually, then Lt. Col. Odumegwu Ojukwu declared Biafra's Independence on 30 May 1967.
He led talks to seek an end to the hostilities by seeking peace with the then Nigerian military leadership, headed by General Yakubu Gowon (Nigeria's head of state following the July 1966 counter coup).
The military leadership met in Aburi Ghana (the Aburi Accord), but the agreement reached there was not implemented to all parties satisfaction upon their return to Nigeria.
The failure to reach a suitable agreement, the decision of the Nigerian military leadership to establish new states in the Eastern Region and the continued pogrom in Northern Nigeria led Ojukwu to announce a breakaway of the Eastern Region under the new name Biafra republic in 1967.
These sequence of events sparked the Nigerian Civil War.
Ojukwu led the Biafran forces and on the defeat of Biafra in January 1970, and after he had delegated instructions to Philip Effiong he went into exile for 13 years, returning to Nigeria following a pardon