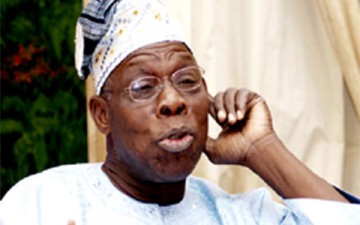 Former President Olusegun Obasanjo, has for the umpteenth time expressed his anger at Nigerian rapper, Eedris Abdulkareem for his 2004 track titled, 'Nigeria jaga jaga'.
Still embittered over the condescending but popular hit track–Nigeria jaga jaga–about the poor state of Nigeria, Mr Obasanjo, claimed that, producing such a song shows that the artiste does not believe in future of the country.
The former president made the remark while speaking at a forum organized by Nigeria Leadership Initiative (NLI) in Lagos on Tuesday, where he also expressed his passion to see the country excel.
According to the former Head of State,  "one of the worst problems Nigeria is facing is disbelief", adding that "Nigerians no longer believe in themselves neither do they believe in their country."
"That takes me back to that song 'jaga jaga'. How could a sane man dare to call his country jaja jaja?" he asked.
"It is the height of blasphemy."
"We are grooming our youths for tomorrow's leadership and with such persons I don't think the country can move forward" he stated emphatically.
Mr Obasanjo has always taken on the former Remedies member whenever he refers to the track, never mincing words while condemning the track and the artiste.