Review Of National Assembly's Activities In 2014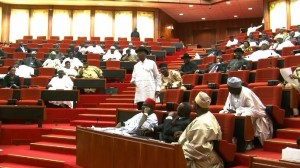 As the year enters its third quarter, the National Assembly in Nigeria has deliberated on several bills and has also carried out some investigations, which are worthy of review.
In this edition of the Gavel, Channels Television looked at the activities of the National Assembly, one of which was the investigation the senate conducted on the immigration recruitment exercise which led to the death of 16 people
The Senate Deputy Whip, Senator Hosea Agboola, says insufficient funds was responsible for the shoddy immigration recruitment exercise which led to the death of the job seekers.
At a Senate investigative hearing, members of the committee on interior learnt that despite raising 710 million Naira from job applicants, the recruitment consultant DRETEL Technologies Limited released only 45 million Naira for the exercise.
On March 15, the 16 job seekers died in stampedes across Nigeria during the recruitment exercise, prompting nationwide outrage and unearthing the huge level of unemployment in Nigeria.
Nigerians demanded to know those responsible for the exercise that caused tears and agony for the families of those killed.
From the testimonies of the board members from the ministry of immigration and the comptroller general of immigration, it appears the recruitment exercise was already fraught with problems before it even began.
Detailed testimonies of the individuals connected with the shoddy exercise.