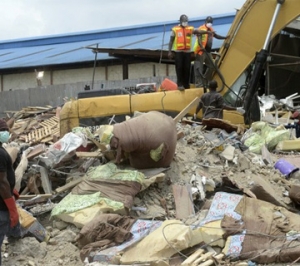 The Coroners inquest into the cause of the Synagogue building collapse has been adjourned till tomorrow, Wednesday the 29th of Oct but a legal practitioner, Mr Olukoya Ogungbeje has dragged the Lagos State Government before a Federal High Court seeking an order to stop further proceedings of the inquest.
The inquest which was constituted by the state government was set up to determine the cause of the Synagogue building collapse with a view to forestalling a recurrence.
The coroner, Magistrate Oyetade Komolafe had last week visited the scene of the incident to get a first hand view and had summoned the founder and General Overseer of the Synagogue Church Of All Nations, Prophet T.B Joshua to appear before him on November 5, 2014.
But Mr Ogungbeje, wants the Federal High Court in Lagos to stop the Coroner and its proceedings so far. He also wants the court to issue a perpetual injunction restraining the defendants jointly and severally from further proceeding, sitting, investigating, or embarking on any fact finding or taking any untoward action in any manner whatsoever on any facts connected to the case.
The defendants in the case are the Lagos State Government, it's Attorney General and Commissioner for Justice, Mr Ade Ipaye and the Coroner Magistrate.
Mr Ogungbeje argues that the inquest was constituted by the Lagos State Government after some agencies of the state government had indicted T.B Joshua and his Church and accused them of adding additional structures on the collapsed building without obtaining the necessary approvals.
He submits that if allowed to continue, the proceedings of the Coroner inquest will seriously occasion miscarriage of justice, as the same Coroner would base its decision on the testimonies of the same agencies of Lagos State, which had openly indicted Joshua and his Church.
He cites as instances the Lagos State Emergency Agency (LASEMA), the Lagos State Building Control Agency, the Lagos State Fire Service, the Lagos State Traffic Management Agency (LASTMA) and others who have made prejudicial reports in the public domain that the building collapsed as a result of additional structures, despite T.B Joshua's claim that the building collapsed as a result of an aircraft hovering round it, a claim which he says was ignored.
Ogungbeje added that "The Lagos State Building Control Agency even went ahead to seal up the main building of the church. The General Manager of the agency even said in the papers and I quote him as follows 'we have investigated and found that they had no approval for the additional structures. Even the main church which they have added about three floors on was sealed two days ago.'
The matter is however yet to be assigned to any judge, while no date has been fixed for hearing.