Voting Ends Peacefully In Benue State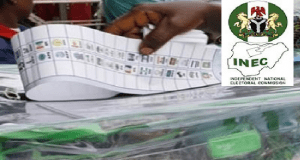 Voting has ended peacefully in some parts of Benue State, including the state capital, Makurdi and other parts of the state monitored by Channels TV crew.
Assistant Inspector-General of Police (AIG), Bala Nasarawa, confirmed in a telephone interview with Channels TV Correspondent in Makurdi, that the election has been largely peaceful as no major incident has been recorded.
The All Progressives Congress (APC) governorship candidate in Benue State, Dr Samuel Ortom, while expressing satisfaction over the performance of the Independent National Electoral Commission (INEC) in an interview, said the electoral umpire has improved.
Similarly, the governorship candidate of the Peoples Democratic Party (PDP), Terhemen Tarzoor, who also expressed satisfaction with the performance of INEC, decried the voter apathy experienced in Makurdi.
SA to President Jonathan on Job creation, Amb Josephine Washima, who correspondingly monitored the election process in the state, also commended the conduct of voters in the state.
As Benue State residents await the outcome of the Governorship and House of Assembly elections in the state, the party agents have converged at the state collation centre.
However, it is believed the waiting game may not be long if INEC replicates its performance as recorded during the presidential election.