President Jonathan Presents Handover Note To Buhari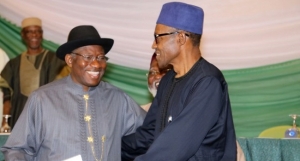 The President has presented his handover notes to the President-elect.
Both men, Goodluck Jonathan and Muhammadu Buhari are perhaps meeting for the last time before the handover.
The presentation was done inside the Council Chambers of the Presidential Villa, Abuja shortly after President Jonathan conducted Buhari round the Presidential Villa.
Jonathan also presented an executive summary of his handover notes and a copy of the National Conference report to the President-elect, Muhammadu Buhari.
Mr. Buhari  says the telephone call by  President Jonathan changed the course of  Nigeria's political history and by that Jonathan has stabilised the system of multi party democracy.
Buhari spoke after a familiarisation tour of the presidential villa and the acceptance of the hand over notes.
According to Buhari, if President  Jonathan had attempted to make things difficult, that would have been at the expense of lives of poor Nigerians.
In the same vein, Vice President Namadi Sambo took the incoming Vice President Prof. Yemi Osibajo round the Vice Presidential office also to show him.
After the tour, every one converged  on the Council Chambers, also present are Ministers in the Jonathan Administration and some other APC chieftains and officials that came with the President and Vice President elect.
President Jonathan from a fifteen page speech  reeled out what his administration has done,  and what they were to do and what he would want the Buhari Administration to implement.