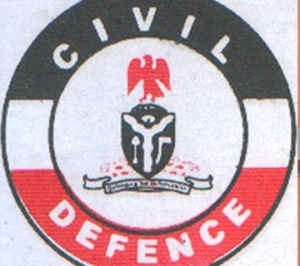 The Nigerian Security and Civil Defence Corps (NSCDC) Imo State Command has arrested seven suspects alleged to be involved in illegal sales and adulteration of stolen crude oil, as well as three suspects who are into vandalism and selling of armoured Nitel cables.
Parading the suspects at the command headquarters in Owerri, the Imo State capital, the State Commandant, Pedro Ideba, said the suspects had been in the business for over a long period of time.
They had beaten different security checkpoints by deceiving security operatives, with lorries meant for transporting sands and chippings to smuggle stolen crude oil into the state.
The suspected thieves were said to have covered the adulterated product with sand under the guise of transporting sand and chippings to their construction sites.
He also said a tip-off by some vigilant members of the public, with efforts by his men, traced the suspects to the point of arrest in Owerri where they were caught when trying to sell these adulterated products.
While sounding a note of warning to economic saboteurs who indulge in the line of business, Mr Ideba said it would not be business as usual as the NSCDC Imo Command remained committed to protecting government infrastructures and bring economic sabotage to its barest minimal.
In a similar development, the command also paraded a group led by one Joel Samuel, suspected to have been responsible for excavating and selling armoured Nitel cables and high tension wires.
However, the Deputy Governor of Imo State, Eze Madumere, who was present while the suspects were being paraded, commended the command for their recent breakthrough while also warning that the state government would not spare anyone who sabotages the economy of the State and Nation.
He added that the Okorocha-led administration would stop at nothing to ensure that residents of the State were protected from economic sabotage and other crimes.
The command has promised to charge the suspects to court for prosecuted and face the necessary punishment as stipulated by the law.
Items recovered from them are, drums of adulterated crude oil, generators, pumping machine, jerrycans, as well as two lorries used in conveying the products.