Troops Kill Boko Haram Members Planning Attack On Bita Village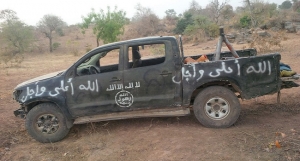 The Nigerian Air Force (NAF), in a combined effort with the ground troops of the Nigerian Army, successfully repelled an attack on Bita village by the Boko Haram terrorist group, a military official said on Sunday.
The Nigerian Air Force, using its Alpha-Jet, provided combat air support to the ground force to attack the insurgents where they were observed to be mopping up to carry out a deadly attack on the village.
Consequently, a large number of the insurgents were killed and several others were injured.
Thereafter, the NAF A-Jet conducted an armed reconnaissance along Bita-Gwoza road and through Yamtege, Hamdaga, Dure and Pulka.
In a statement, the spokesman for the Air Force, Air Commodore Dele Alonge, said that the NAF would continue to give all necessary support to the ground force through its intensified and persistent efforts in the ongoing fight against Boko Haram terrorists in the North-East "until all portions of Nigerian soil is safe and free from the insurgents".
Counter terrorism operations have continued in the north-eastern part of the oil-rich nation against the Boko Haram insurgents, trying to bring an end to western education and establish an Islamic State in the region.
The crisis has displaced over 1.5 million persons, according to the United Nations High Commission for Refugees.