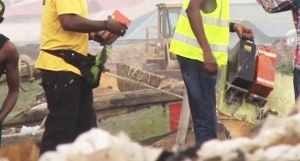 Three days after the Bristow helicopter crash, the Accident Investigation Bureau of the Ministry of Aviation says it has found the black boxes.
The black box is a device which captures flight conversations and the final moments before any aircraft crash.
The two boxes where found after several hours of search by professional divers at the scene of the crash.
Channels Television got the exclusive video of the black boxes, as they where handed over to officials from Bristow Helicopters and the Accident Investigation Bureau (AIB).
Meanwhile, six people who survived the 5N-BDG-760540 Bristow helicopter crash have been receiving treatment at the St. Nicholas Hospital, Lagos.
When Channels Television visited the place on Lagos Island on Friday, the management confirmed that the patients were actually there but could not disclose the progress or response made by the patients to treatment.
Twelve people were said to be in the ill-fated helicopter and six out of that number were killed in the crash.