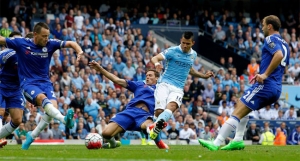 Premier League club, Manchester City, has laid down a significant early marker by beating Chelsea 3-0 at the Etihad Stadium.
The goals scorers were Sergio Aguero Vincent Kompany and  Fernandinho.
Aguero opened the scoring at the 31st minute while Kompany scored at the 79th minute.
Not long after Eden Hazard was given a yellow card, Fernandinho sealed a win with the winning goal in the 85th minute.
After the match, the Manchester City boss, Manuel Pellegrini, said that his team had a lot of criticisms, but were always the scoring team.
"I am very proud of this team. We have had a lot of criticism but we are always the most scoring team. We won two titles and last year we finished in second place and I continue playing this side. This is the side fans deserve."
The City boss also said that the most pleasing thing to him about the match is the fact that his side scored three goals.
"Two things are the most pleasing to me about this match. Number one to score three goals. In the first half we played really well, just Asmir Begoivc put in a great performance and we didn't score more.
"Second it was important to get a clean sheet. To win 3-0 in two games, one against the champions, we are just starting the season but it's important to play in the way we did today. A lot of criticism but we are always the most scoring team," he said.