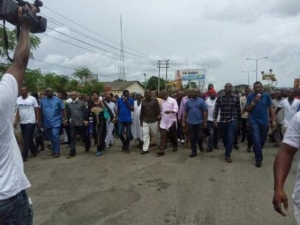 Workers of the Ministry of Information have staged a protest against what they described as the ministry's negligence of staff welfare and gross misappropriation of public funds.
The protesters who gathered at the Radio House in Abuja, urged President Muhammadu Buhari to probe activities of the ministry's Permanent Secretary, who they accused of mismanagement of the Subsidy Re-investment and Empowerment Programme (SURE-P) funds, non-payment of allowances, refusal to train staff, among others.
The Chairman of the Association of Senior Civil Servants, Information Chapter, Adam Ogwola, recounted many challenges of the workers,in an environment they described as 'unreceptive'.
The issues appeared numerous as aggrieved members threw caution to the wind, calling for tougher actions and the removal of the Permanent Secretary.
This is not the first time workers of the ministry would be protesting over poor welfare, but this time , they expect  concrete results after a planned meeting with the labour union.